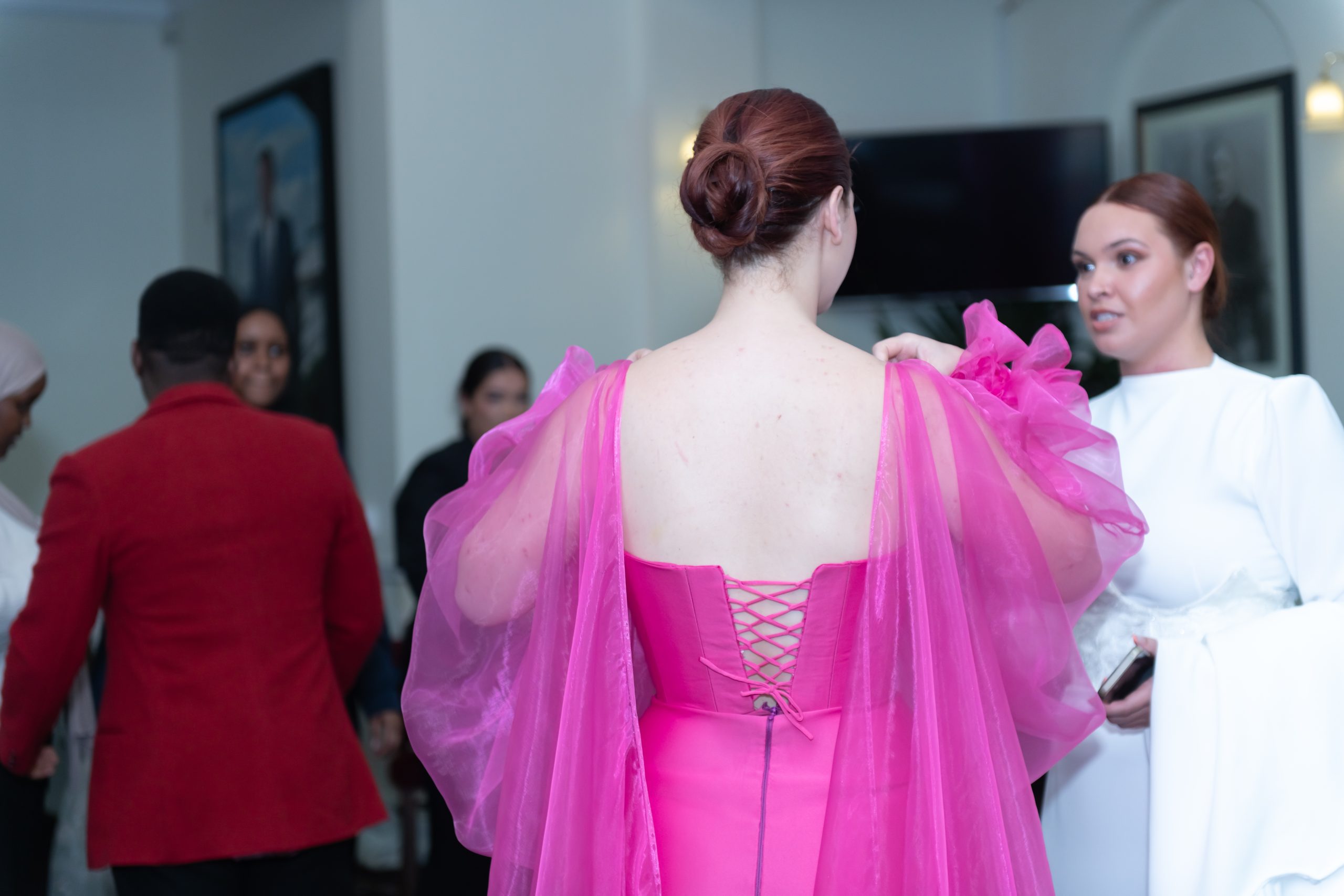 At the Kia Oval in September, the last of the summer sun makes one final appearance for London Fashion Week SS24.
The CREATIVETH team and volunteers are setting up, arriving at 10am to prepare for the Saturday evening show. Models arrive shortly afterwards and begin practising their walks.
Posters are up. Ruffles are in.
Backstage, the designers and dressers are helping the models try on the outfits. Shouts of 'has anyone got any nude heels in a size 6?' cut across the chatter and everyone pitches in.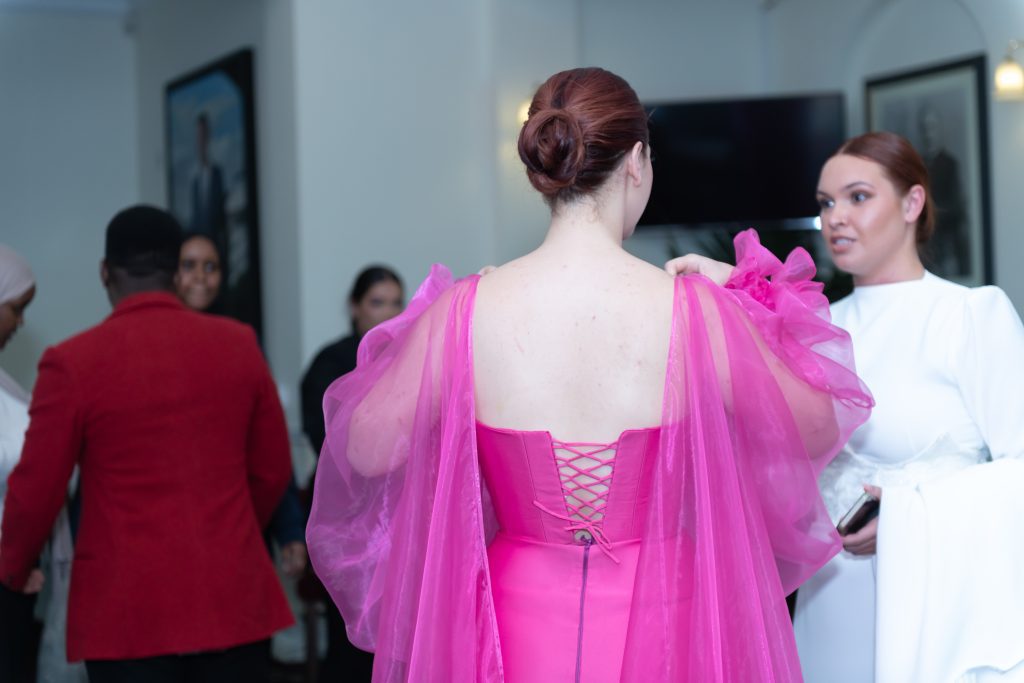 Models who have been selected by the designers are placed into a running order that will help them avoid any quick outfit changes. More practicing, more posing.
Volunteers are taking photographs and making video content, and the front of house team are preparing for when the first guests arrive.
I manage to catch most of the designers for short interviews before the show.
'I'm dreaming of green', Modinat Banjo of House of Ruth Atelier tells me in reference to her couture collection. Look out for a blend of the 'tribal South African experience' with the 'Afro-Indie urban American experience', say representatives from House of Renaldo Cortez.
When I head back to the show, the room has been transformed with new lighting and the arrival of the first guests. I mingle with the audience and admire the effort put into their outfits. Winloh Bungué sits with a diamonte snake around his neck. Stacey Gardiner is in red with retro glasses and a tie she made out of her daughter's tracksuit bottoms Other guests include Chiara from Mila Rose London, a woman-led e-commerce fashion business, who tells me she is hoping to have lots of fun and take some inspiration for what she would like for herself as well as the brand. I find myself sitting next to Countessa, owner of By Bread Alone (.:BBA:.), her hair adorned with fluttering silver butterflies.
The music starts and the show begins.
First up is Meg J. Gardner with her first ready-to-wear collection, showcasing clean, classic silhouettes. Models wear dresses in white, purple, green, and blue, and Meg herself wears one of her favourite pieces in wine red. The models wear the dresses as eveningwear, but the dresses are intended to be versatile and can be worn in different ways. This feeds into the ethos of the brand: slow fashion and sustainability, and rewearing and appreciating clothes by using classic designs that will be relevant for years to come. 'You can predict trends by looking back at history', Meg tells me, 'you can look back at fashion as well as forwards'.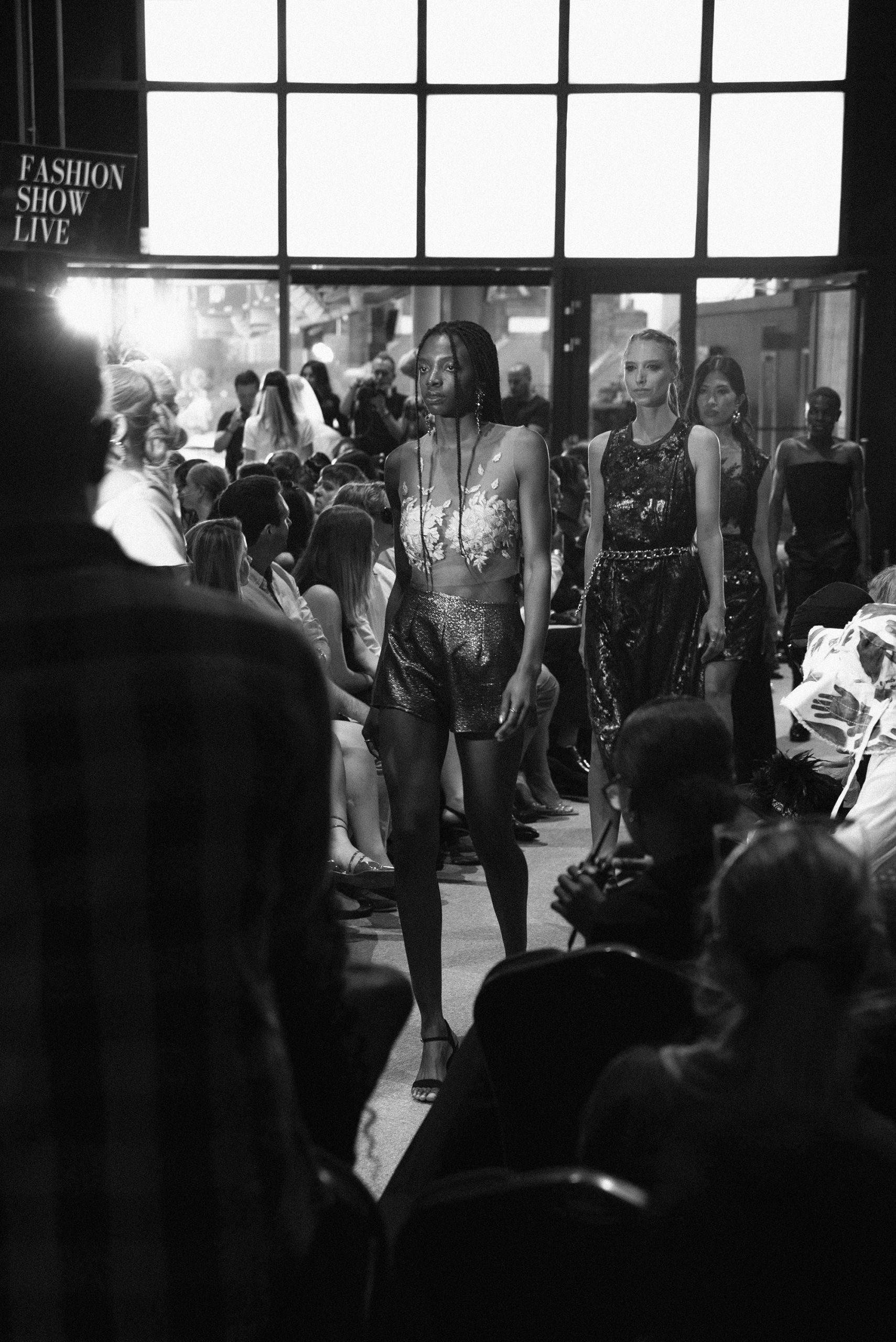 The dresses displayed from Meg's couture collection are made out of a sumptuous navy velvet and the collection was given its name Tempus (Latin for 'time') for similar reasons.
The next designer is Andersson Gomes Rodriguez, brand name Anderson Rodriguez, whose personality clearly comes through in his work. His collection is called Black Fenix. Every piece is sewn and painted by the designer, coming together to make a majestic collection of black and gold. 'With the Black Fenix collection, I want to show the dynamics, creativity and versality of my brand', he tells me. Standout pieces are a black dress with a giant gold bow, and a painted black leather waistcoat. Andersson walks the runway with gold combs in his hair and holding the flag of Guinea-Bissau. His pieces are bursting with personality and eloquence.
An upbeat song plays and immediately everyone finds themselves moving their shoulders or bouncing their knees in time with the music. Models wearing Antonia York, by designer Jan Hyde, wear loose flowy dresses with lots of ruffles and blows. The collection is called Aurora and features flattering, feminine, comfortable, and easy-to-wear styles. The focus is on sleeves and bows and the collection features a newly designed floral print. The designer wears one of thedresses in blue and black. Antonia York focuses on sustainability and usually uses deadstock fabrics. The new printed fabric is made of out recycled polyester and neckties are made out of leftover materials.
The fourth brand is House of Renaldo Cortez, with models walking out to House of Pain's 'Jump Around' in colourful tracksuits. The designer was born in Cleveland and launched the brand in 2019 in South Africa. The South African influence is evident in the bright prints and a stand-out orange tracksuit. The tracksuits include skirt and top mixtures. Two models walk out together wearing one item of the matching set: one a pink hoodie, the other the pink skirt. The bold, bright and eye-catching colours and patterns are fun and memorable.
Next up is designer Modinat Banjo with House of Ruth Atelier. The brand synergises 'African cloth and Western aesthetic' and the collection shown today is a mixture of ready-to-wear and couture pieces. What stands out is the minute attention to detail and accessorising: models walk out with earrings, sunglasses, and a yellow beret that carefully bring out the colours in the outfits, and one model wears a green ribbon around her neck that matches the ribbon ties on the back of her corset. Inspiration is drawn from North African silhouettes, with lots of kaftans, skirts, and longline pieces. There are also African prints. The couture collection is strikingly green, representing 'the green of the forest', said Modinat before the show.
After a break, The Mek Brand menswear models walk out to drums and singing, wearing patchwork outfits and masks. The clothes are bold and oversized, with designs honouring cultural traditions and aiming to promote freedom of expression. Sustainability is important to The Mek Brand. The models are barefoot and there is a sense of rawness and beauty. The drummer follows the models and on the second walk through the models remove their masks.
The seventh brand is Tunde Design, showcasing a collection of dresses in a pleasing colourway, with models walking out first in white, then pink, then red, purple, dark blue, and green. There are a mixture of longer and shorter dresses, with some bridalwear too. The designs are exquisite, extremely detailed in cases, with a beautiful elegance. The silhouettes are powerful and often princess-like.
Next is a bold womenswear collection by The CMB Label, featuring a swathe of swimsuits in metallic colours including silver and pink. The collection is bold and powerful, aiming to 'celebrate, uplift, encourage and accentuate the feminine energy'. The designs often cling to the curves of the body and are eye-catching pieces. Some bikinis feature bikini skirts or sashes and introduce unique shapes and designs. Models walk out to a song from the Barbie album and match it with sass, femininity, and lots pink.
The penultimate designer is Sara Usai with brand Sariusai, a brand using upcycled and recycled materials, including deadstock fabric. The designs have a contemporary and urban edge and are mostly in black and dark colours. Two stand-out pieces include what Sara calls 'the power puffer jacket', a swooping, floor-grazing, slim, hooded puffer in a metallic red and the 'queer wedding dress', a black and white tulle gown with huge puff sleeves and ruffles. In an interview before the show, Sara spoke to me about her identity as a bisexual woman and how she likes to play with gender in her brand. Her designs are influenced by her experiences growing up in Sardinia. She hopes her designs are empowering.
The final designer is Amal Osman with modest and elegant bridalwear and evening gowns. The bridal dresses are simple, understated, and elegant. Amal's vision for the brand is to create a space for everyone, accommodating a diversity of sizes and modest designs. Amal told me that she loves florals and spring, which is evident within this collection starting out with angelic white dresses and deepening into a vivid pink dress with princess-like sleeves and trailing fabric. The final pink dress, with the model raising her arms in the air to display the sleeves, is a beautiful vision to end the night on.
Guests mingle and designs are discussed. I found it interesting to see many designers choosing to work this year with recycled or deadstock fabrics, making an effort to be sustainable with production processes and designs.
Fashion Show Live SS24 is over and a success.
Reporting from Creativeth at London Fashion Week SS24, over and out.